What a day for CAWS, we had two people nominated, both got through to the finals and one of them won the award. Congratulations to both of our Champions for their great success in 2020.
Wayne Lansdowne was nominated for Volunteer of the Year at Blacktown City Council IDPWD Awards following a year where volunteers were needed by CAWS more than ever. We haven't had our wonderful workers from the JobActive program since March which means a huge reduction in people power for our community program. During the lockdown because of Covid, Wayne and a worker drove around the Blacktown LGA delivering much needed food to people who were doing it tough. Wayne is a major player at the Lalor Park Markets each month, he is on the market committee and helps us to set up and clean up as well as managing the CAWS staff and the book stall. He is a very hard worker for CAWS and we want to say a huge thank you to Wayne for all his hard work this year. Wayne was one of four finalists for this category. Whilst Wayne was not the winner in this category we think he is a winner and a CAWS Champion for 2020 and he was awarded a $50 gift card for his dedication and service. Congratulations Wayne.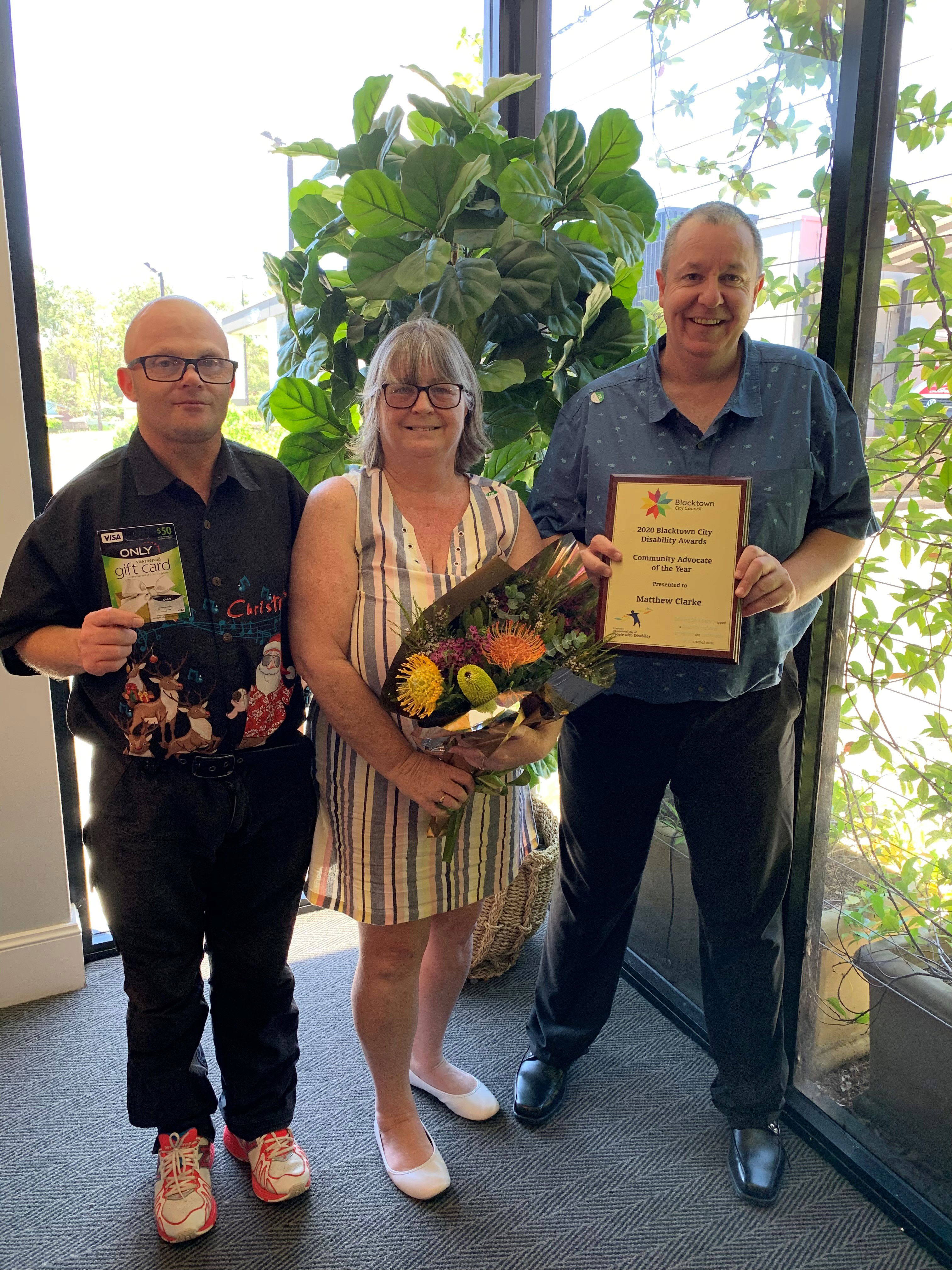 (left to right) Wayne Lansdowne, finalist 'Volunteer of the Year'. Chris Laurie CAWS Manager. Matthew Clarke winner 'Advocate of the Year' 2020 with his plaque and flowers presented at the Blacktown City Council ceremony.
Enjoying a celebratory lunch with friends.
Matthew Clarke was nominated by CAWS for 'Advocate of the Year', over the past 12 months Matthew has been the elected liaison between CAWS We Matter and the CAWS Board. Matthew has been working diligently throughout the year to ensure that any issues participants raise with him are heard by management and/or the Board, reporting each month on the outcomes of the CAWS We Matter meeting and providing feedback to the participants about what is happening at Board level where it is not a confidential issue. Matthew has also of course, been a valuable contributing member of the Board on all matters of Governance.
On Friday 4th December Matthew was invited to attend the Blacktown City Council awards ceremony in person and received the International Day of People with Disability 'Advocate of the Year' for 2020. We are so proud of Matthew and thank him for services to CAWS, he is an amazing advocate for CAWS participants, he listens to what they are saying and when an issue is raised that several people are concerned about, or there is an idea for something new, he brings it to management and the Board for consideration. He also helps individuals who have an issue to find the right person to talk to.
Congratulations Matthew, you have our gratitude and that of all the participants for the work that you do at CAWS.
Wayne Lansdowne and Matthew Clarke CAWS Champions 2020